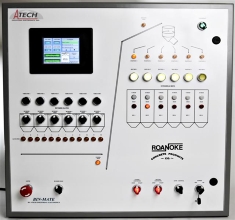 Bin-Mate is the most cost effective way to automatically keep plant levels full without operator intervention.
Bin-Mate is a pre-engineered system with minimal hardware, which makes it very cost effective. Designed with industry proven solid-state electronics, Bin-Mate reduces costly downtime.
Bin-Mate is recognized throughout the industry as a reliable workhorse. The modular design and programmable controller make expandability easy without extensive panel modification costs.
The Bin-Mate control panel displays status and allows the adjustment of system timers while featuring an audible alarm to alert the operator of plant malfunctions. Bin-Mate is fully customized to any plant configuration and can be built to your specifications at production prices.
Each unit is laid out and built by the same technicians that support the product in-house and in the field. Bin-Mate comes complete with operator guides, system schematics, and a toll-free number for free technical assistance.
Standard Features
· 6 bins x 6 bunkers Configuration standard
· Controls for two Conveyers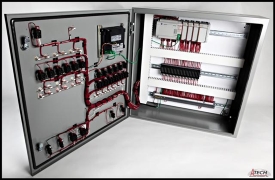 · Controls for one Reversible Turnhead
· Complete manual backup by operator switches and plant indicators
· Full size standard and illuminated switches and plant status indicators
· NEMA 12 enclosure
· Bin Priority Assignments
· Skip Bin Switches
· Automatic Vibrator control for Bunkers
· OSHA conveyor start alarm timers
· Fused terminals on all controlled outputs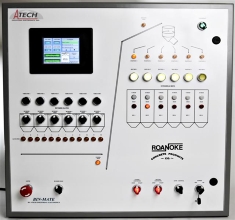 · Two materials on belt simultaneously
· Operator accessible times for conveyer clearing
· Selectable timed Bin fill mode
· Full set of wiring schematics
· Optional non-contact Material on Belt Sensors
· One year warranty on all workmanship by ATECH/Manufacturers' warranty on all hardware